BioTE Hormone Treatment
in Cedar Park
BioTe can be Life Changing!
Thinking about hormone treatment? Maybe you haven't felt like yourself in so long it's become your new normal to feel tired. Depressed. Disinterested. Well, you're not alone. Hormone treatment is on the minds of men and women everywhere trying to reclaim their lives.
Now, BioTE® hormone treatment is the choice of those looking for safe, proven alternatives.
What is BioTE Hormone Treatment?
BioTE is a human identical hormone replacement treatment that uses pellets, tiny cylindrical-shaped supplements that are inserted painlessly into a discreet location of your body, usually in the hip area.
The pellets release consistent, precise doses of testosterone and/or estrogen hormones over time for optimal health. The BioTE Method of Pellet Therapy is a simple, 30-minute in-office solution to optimize your hormones without side effects and results lasting 3-4 months in women and 5-6 months in men.
Whether you want to feel like yourself again or prevent age-related illnesses, BioTE is the safest, healthiest, and most effective type of bioidentical hormone replacement therapy. It is 100% natural, made entirely from plant sources and supported by over 80 years of research and 1.7 million pellet insertions. Studies have shown optimized hormones can help alleviate menopause symptoms and prevent age related diseases, such as Alzheimer's, dementia, diabetes, and coronary disease.
Short-term Changes
What changes can you expect to see short-term?
Some patients notice they feel better within 48 hours of the first pellet insertion.
It may take up to one or two weeks to begin feeling an overall difference.
Greater energy level.
A lighter overall mood.
Symptoms of depression and anxiety lessen.
Brain fog? Say so long. Clearer thinking makes life easier.
Even physical coordination improves for many BioTE® patients.
That sounds great! But what can you expect long term with BioTE® hormone treatment?
Long-term Changes
One of the most comforting things about choosing BioTE® for many patients is the safety. BHRT is backed up by science. Because BioTE® pellets are structurally the same as the hormones your body produces anyway, they don't carry the same risks associated with traditional HRT.
Your body and brain will thank you over time, too.
Long-term, muscle mass will increase.
Fatty tissue goes down.
Patients notice increased strength over time.
Physical performance improves.
You may even see some new growth.
For men and women, improvement in sex drive and stamina increases.
This is great for any relationship!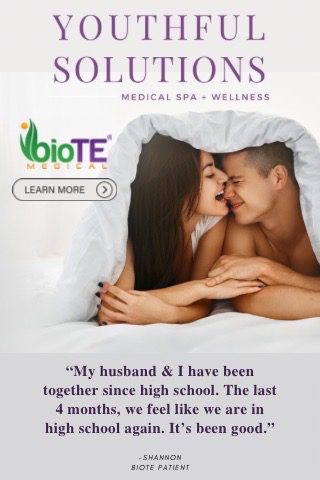 Men
Do You Want To Get To Feeling Better?
BioTE® is not just for women. Studies have shown men begin losing testosterone at a rate of three to ten percent per year beginning at age 30. Current medical research now defines a male equivalent to menopause as andropause.
Because the testosterone used is totally natural, it is ideal for men who want the benefits of a bio-identical hormone without the drawbacks of a synthetic.
Men with testosterone deficiency may experience fatigue, lack of mental acuity, loss of libido, and difficulty achieving or sustaining an erection. They are also at increased risk for Alzheimer's disease, coronary vascular disease (CVD), osteoporosis, prostate cancer, and diabetes mellitus.
BioTE® Medical has had excellent results treating men with bio-identical hormone from BioTE.  There have been only a few reported side effects, which are all minor and treatable.
BioTE Legacy Provider
Dr. Smith at Youthful Solutions has been perfoming BioTE hormone replacement optimization for women and men as a way of improving the way you feel and the way your body functions.a variety of conditions.
Dr. Smith has been a top BioTE® provider since 2017 and her team achieved "Legacy" status as a BioTE provider based on her years of experience with the treatment and returning clients satisfaction.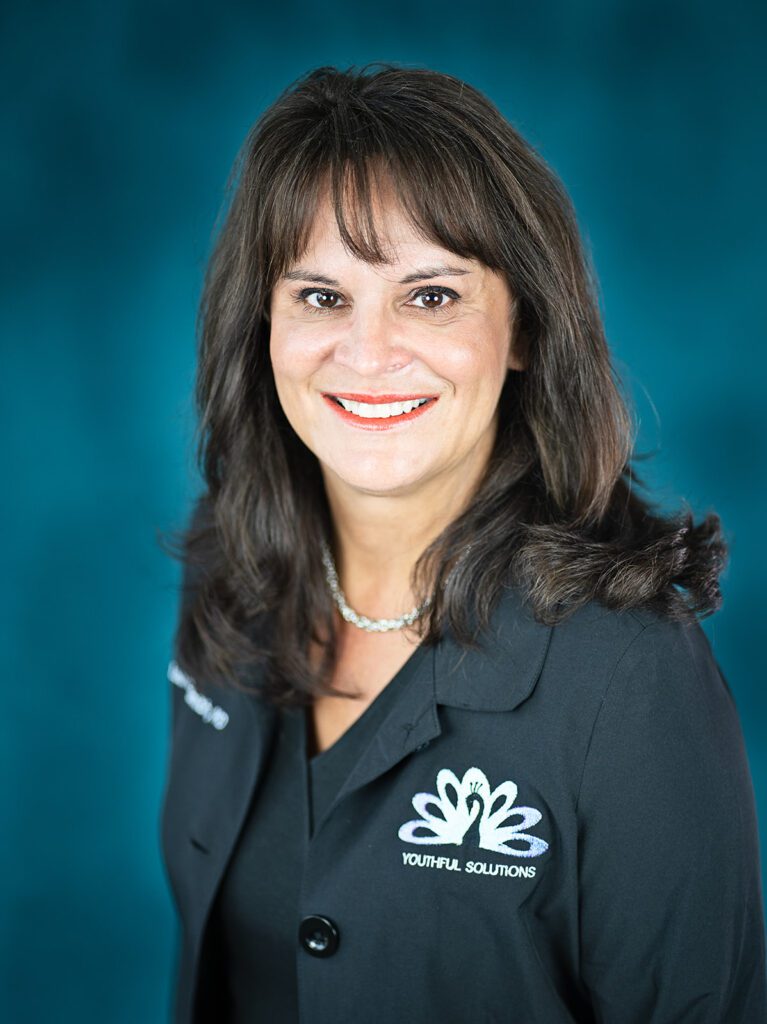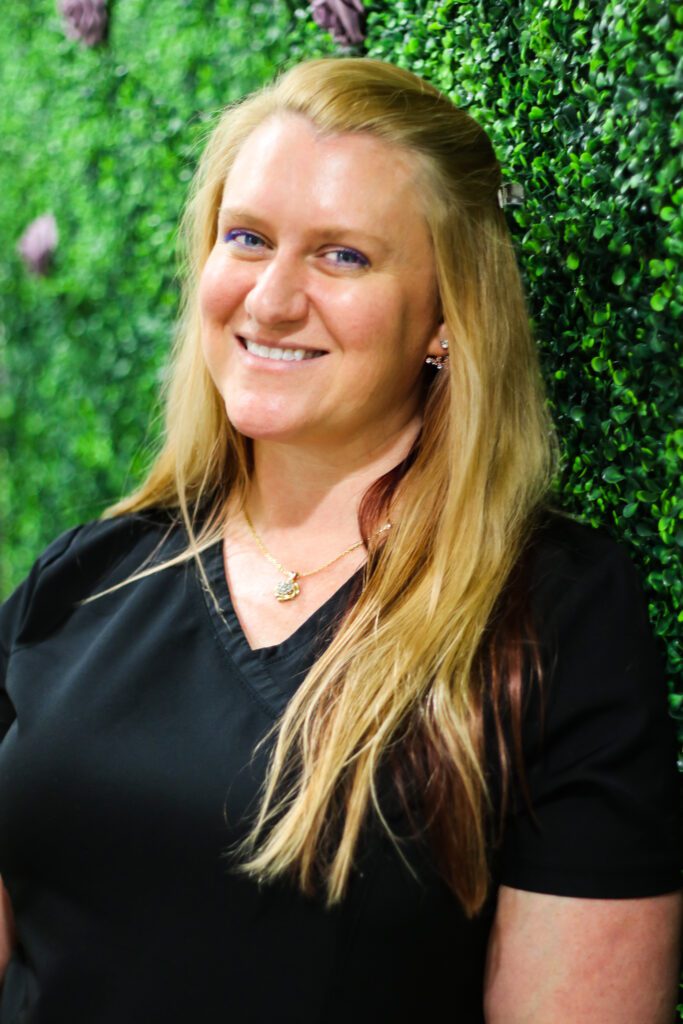 Theresa – Medical Assistant
How To Get Started
1st – Book Consult (order labs optional)
First, schedule a consultation (call us or book online)
To speed up the process, call us directly, so we can order your labs.
Ordering your labs is optional for first consult.
2nd – Consult
Discuss your current hormone, thyroid, and vitamin D levels, medications, health history, and family history.
Get Labs ordered and completed if not done yet. Normally, we receive labs results back in 48hrs
Pre-Book next appt to Analyze Hormones & Get BioTE
We test your hormone levels with a blood test to find the root cause of your symptoms affecting your health and provides the best information to personalize your dosage of the BioTE pellets.
3rd – Lab Reviews + BioTE Procedure (Pellet Insertion)
or possibly 2nd if labs ordered at step 1.
Lastly,  have your pellet insertion done the same day as your lab reviews, unless you are not medically cleared by Dr. Smith. Then within a week to ten days after your pellet insertion, your Bio-identical Hormone begins to work, and back to their active lifestyles. Feeling better!
Let's Get To Felling Better!
Cost
Labs
$200 (one time cost)
Consult to Review Labs
$50 (one time cost)
BioTE Pellet Insertion
Dr. Smith
First Time Patients
$350 (women) $700 (men)
Need to Lose some Weight too?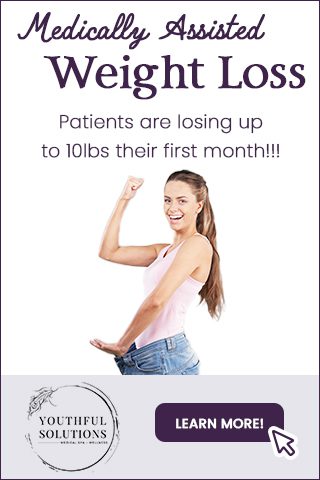 Finally, Lose Weight and Keep it Off!
Youthful Solutions and Dr. Laurette Smith are proud to offer a new Semaglutide Peptide Treatment in Cedar Park. The Semaglutide Peptide was approved by the FDA in 2021.
Semaglutide and Weight Loss
Can a new FDA approved weight loss drug help you hit your body composition goals? It may sound too good to be true, but hang on a minute— this treatment could be the very thing that gives your weight loss journey the boost it needs!
You may have attempted to lose weight and keep it off many times in the past. The ups and downs can certainly be difficult, but you may finally be able to lose weight and keep it off with the help of Semaglutide.