Profound
Non Surgical Face and Neck Lift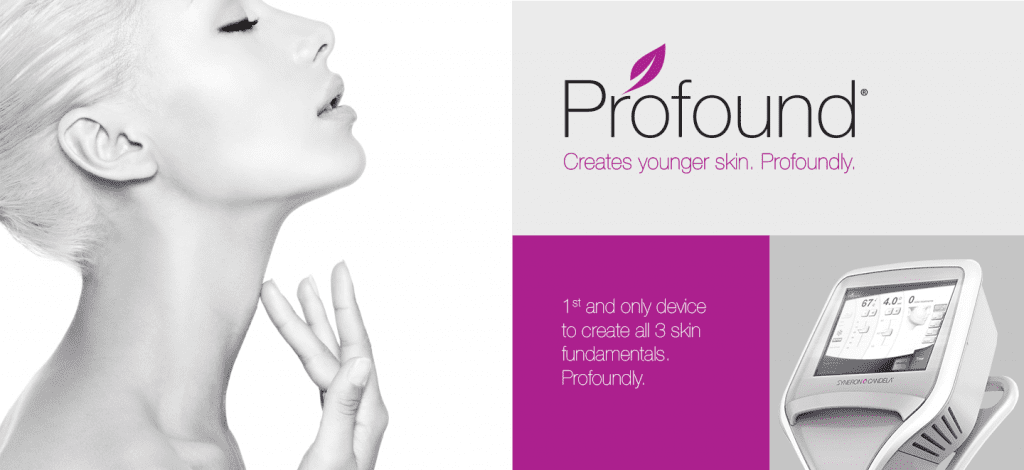 Why You Will Love Profound?
As with any cosmetic procedure, it's important to meet with your provider to discuss whether it's a good option for you. During this consultation, you'll get to speak directly and privately with one of our skilled Registered Nurses and Dr. Smith in a relaxed, comfortable setting.
We'll explain the process, answer any questions you may have, and ensure that the proper expectations are set. If Profound isn't the best option for meeting your goals, we may recommend some alternative solutions to help you feel achieve your desired result.
Ideal candidates for Profound are seeking to reduce the signs of aging without the need for surgery, anesthesia, and long down time.  In clinical studies, Profound had a 100% response rate for wrinkles and a 95% response rate for skin laxity.
What Does Profound treat?
Fight aging skin by addressing:
Lines, wrinkles, and deteriorating skin quality
Target and treat Cellulite
Improve skin laxity in any area of your body
Lift loose skin under the neck
Improve the contour of the double-chin area
Rejuvenate sagging abdominal skin from childbirth
Improve sagging jowls
Because your overall skin health is important to us, we include a complimentary VISIA analysis where a customized program is designed specifically for your needs and concerns. Our Registered Nurses work with you to ensure a treatment that addresses your needs and goals.
The Benefits
    LIFT sagging jowls and loose skin under the neck
    SMOOTH cellulite on the thighs and buttocks
    CONTOUR the neck and under the chin
How Many Will I Need?
Profound is a one (1) treatment.
The Profound treatment promotes natural production of new elastin and collagen over time through your body's own growth & regeneration processes.  Most patients report improvements in as little as 6-8 weeks post treatment while optimal results may take 3-6 months to be visible.  How quickly you see your results may depend on your age, your health, and you pre and post skin care regimen.
What Does it Cost?
When it comes to pricing, the amount you pay for a Profound is very affordable, especially when you consider the type of result, you'll see without the need for surgery.  A non-surgical Profound treatment is a far less expensive than a traditional facelift or other skin tightening surgical treatments.  There are no anesthesia fees, surgeon's fees, or hidden costs.
$3,400 – Promotion $2,900
Profound is a one (1) treatment