Body Contouring
in Cedar Park, TX
Vanquish ME for Focused Area Fat Reduction
BTL VANQUISH ME™ is the second generation of contactless technology for fat cell disruption. The device ensures an unrivaled level of patient comfort and safety, without BMI limitations.
Vanquish ME™ uses radio frequency (RF) energy selectively focused into the fat layers below your skin and consists of a full flank to flank body treatment. Vanquish ME™ disrupts fatty cells through the selective heating of adipose tissue which then leads to fatty cell elimination.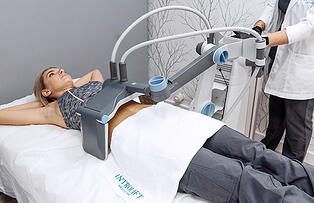 Unlike CoolSculpting and SculpSure BTL Vanquish ME is a non-contact body shaping device. Its body shaping effects tend to be uniform across the entire body part. It may be used for patients where BMI is higher than desired for other devices. The BTL Vanquish ME technology is based on the elevation of fat temperature.
Our goal is to make your experience with us a personalized one from start to finish. During our consultations we can focus just on problem area or we can do a treat to transformation assessment that allow us to assess patients of treatment for bigger areas.
How Many Treatments are Needed and Cost?
Our most successful Treatment Plans for Fat Reduction with Vanquish ME is a 6 treatment sessions with 1 treatment every 7-10 days lasting 45 minutes each. We have a Contour Club Monthly Membership for ongoing maintenance.
Vanquish Slim & Trim Package:
Stomach + Flanks (6 tx) sessions for $900 save $300
Upper Legs (4 tx /x 2 legs) sessions for $1,400 save $400
Together We Are Great!
EMsculpt Combined with VanquishMe
Our Slim and Sculpt Package consist of a series of four sessions each is completed over the course of 30 days.
Results: EMsculpt Combined with Vanquish
EMsculpt combined with Vanquish produces a noticeably slimmer and more toned abdomen in a matter of weeks.
Body Contour Packages In Our App
(Monthly Payment Options)
Click on Button Below
Sign Up – Its Free! and Get $50 as a Welcome