Cedar Park Laser Hair Removal
Put An End to Waxing & Shaving
We are currently offering a bundle package for Laser Hair Removal.
$1,500 for unlimited laser hair removal for 6 months.
$2,500 for unlimited laser hair removal for 12 months.
Our laser hair removal treatment device is a new revolutionary system proven to be very effective and less painful than other laser hair machines and can eliminate unwanted hair on both the body and face.
Our new LHR Lambda machine may be used any time of the year and we service both men and women of all skin types and hair color.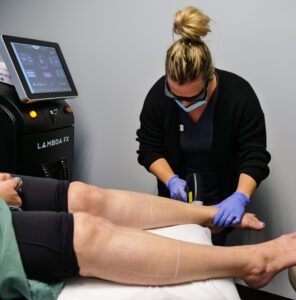 How our Laser Hair Removal Works
When directed at the hair follicle, laser energy is absorbed through the hair pigment to damage the follicle. As a result of the laser treatments, hair regrowth is prevented. The laser hair removal device also includes a patented Dynamic Cooling Device® which reduces discomfort from the laser pulses during treatment. Laser hair removal is effective for eliminating hair on all parts of the body, except for around the eyes.
The most common treatment areas are:
Face
Ears
Legs
Arms
Underarms
Bikini line
Abdomen
Back
Chest
Lips
What to Expect?
During the weeks between laser hair removal treatment sessions, patients will occasionally notice the hair begin to fall out. After optimal treatment sessions, patients generally report reduced body hair. As a result, their skin looks and feels smoother. Additionally, they do not need to wax, shave, or pluck.
Furthermore, after treatment, hair cannot grow from the follicle again, leading to permanent results.
Post-Laser Hair Removal Treatment Tips
Following a laser hair removal treatment, you can immediately resume your regular daily activities on the condition that the treated areas are kept out of the sun for one week. Please keep in mind, you should not forget to schedule your next session before leaving our office.
To book your consultation for body or face laser hair removal, call us at (512) 843-0545 or send in client form below. Online Booking Available.